This AdWords tracking guide will help you start saving money today.
If you're running a Google AdWords campaign, you already know your ads are free until someone clicks one. But what happens after they click?
If you don't monitor landing page activity, you won't be able to measure and improve your return on ad spend (ROAS).
And if you don't measure your AdWords performance, you're almost certainly paying too much per click.
Squeeze more from your AdWords budget by tracking your conversions — the desirable actions visitors take on your landing page or website. Conversion tracking measures the profitability of your campaigns. You can use this data to optimize a host of elements within your campaigns such as:
ads
ad groups
keywords
landing page layout
content offers
calls to action
copywriting
bid strategy
device bid adjustments
ad extensions
Ready to begin tracking conversions? Here's how to do it.
Step 1: Decide which Actions to Track
You'll want to record any significant event that brings you one step closer to a desirable outcome, which is most often a revenue-generating event (a client acquisition or purchase).  Here are some of the actions you can track online through your PPC campaign:
Website activity:
Purchases
Newsletter sign-ups
Downloads
Contact requests
Phone activity:
Calls to a phone number displayed in your ad
Calls to a phone number displayed on your landing page
App Downloads from a smartphone
Step 2: Set Up "Goals" in Google Analytics
To track activity, you'll create goals.
You can configure and monitor goals directly in Google Adwords, but letting Google import your AdWords data into your Google Analytics account is preferable.  Importing data into Google Analytics makes it easy to compare the performance of your paid traffic with your other channels: organic, direct and referral traffic.
Step 3: Link Your Accounts
Google explains how to link your accounts.
Step 4: Count Conversions
You'll need to decide whether to record each important event by a single visitor as a single conversion, or record each event as a different conversion.
To count multiple events by the same visitor separately, select "Every." (Choose this if you're selling products.)
To track multiple conversion activities by the same visitor as a single conversion, select "One." (Choose this if you're generating leads.)
Step 5: Assign Conversion Values
Remember that the "converted clicks" tally does not represent the relative value of each click. The conversion total assigns an equal value to every action.
To differentiate conversion activities, assign a value to each conversion action you're tracking.
Select "Tools" tab
Select "Conversions" from drop down
Select the conversion action to edit from the list you've created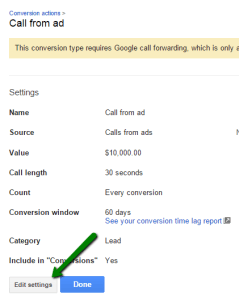 Select the pencil icon to assign a value
Assign or change the value, and then select Done
Recap
You must know what happens after visitors arrive at your landing page if you want to squeeze the most value from your AdWords campaign. Conversion tracking is the way to obtain this valuable information.
Track conversions by designating the actions you wish to monitor
Create "goals" in your Google Analytics account
Link AdWords to Analytics
Choose 1 of the 2 ways to count conversions. Track "Every" conversion separately (appropriate for purchases) or track "One" conversion per visitor (appropriate for lead-generation sites)
Assign values to each conversion action
Use conversion tracking data to improve your AdWords campaign performance and ROAS.
If you need further assistance creating and tracking your Google AdWords campaigns, contact us. We're here to help.