Can your small or mid-sized business outrank a larger company in local search for high-value search phrases?
Yes.
In this post, we'll share 6 local-search secrets you can use to dominate your local search rankings.
You don't need to be an SEO genius or guru to achieve top rankings. You just need to apply consistent effort and some local SEO knowledge.  Here we go.
#1. Get Mobile Friendly
Being optimized for mobile is no longer an option – it's a necessity to attract and engage website visitors. It's also one of the few ranking factors in Google's search algorithm that they disclose publicly.
If your website is not responsive (mobile friendly), it is already in the penalty box for mobile searches on Google. You are forfeiting market share to your mobile-friendly competitors.
More consumers use mobile devices than desktop computers when they search for local businesses.
If you are targeting millennials or younger, take a look at slide #69 (click the image below for a larger view) from this excellent presentation about 2018 internet trends by KPCB.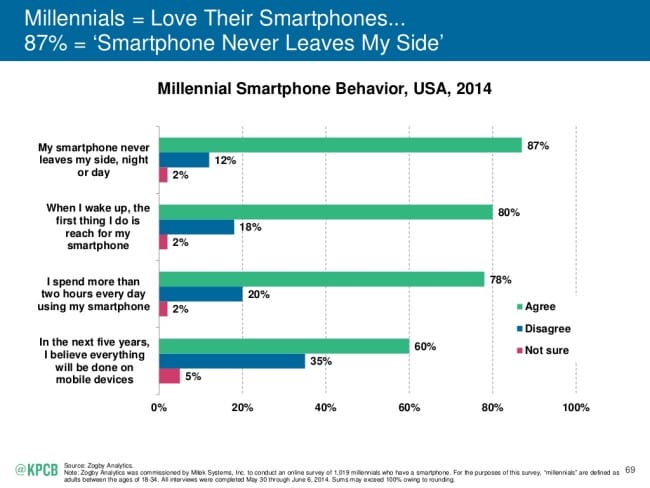 If your site isn't optimized for mobile, make this a top priority.
#2. Request Reviews 
Getting feedback from happy, loyal customers shouldn't be too difficult, but you do need to ask them for their input. Here are some proven methods to make it easier for your customers to help your business:
Request a review during checkout
Include a request with your invoice or at the bottom of a receipt
Create visible in-store signage that asks people to recommend you online
Mention it in an e-newsletter with links to sites where you'd like to be recommended
Ask for recommendations through your personal and business social media followers
If you have collected a buyer's email address, send a message one week after their purchase
Provide a computer or iPad in your store so people can leave feedback right away
#3. Localize Your Website
Your website describes your products and services, but does it describe them in the context of your local market? If not, here are some simple fixes to optimize the content you already have:
Include your city in page titles and meta descriptions, along with the name of the service you offer
Include local contact information on appropriate pages
Add a Google map to your site
Insert location details and directions
#4. Create Local Content
Writing about local businesses and places on your website and blog can help your smaller business outrank larger competitors for geographic-specific content. Offer location-specific content about the offerings that complement your establishment. Mention local events and businesses to stand out against non-local companies vying for a market share in your local market.
#5. Acquire Citations & Help Neighborhood Businesses
When your name and business is cited organically in other places across the Web, your SEO rankings naturally improve.
Unless you're a non-profit organization, you're unlikely to receive loads of free local press. Here's a way to fix that.
Befriend local bloggers to connect and share information specific to your area. Offer to write a guest post about a topic that their audience might appreciate that overlaps with your expertise.
Your large competitors don't have the local connections to compete with you in your city.  By networking and helping neighboring businesses, you can outrank any non-local brand.
#6. Ensure Consistent NAP
This last bit of local-search advice is so important it deserves a separate post.
NAP is the search industry's acronym for "name, address, and phone."
Every website that mentions your business should display your current business name, address, and phone.  NAP inconsistencies will damage your search results, especially for local search.
Check your social profiles and directory listings, as well as every page of your website.  Update any references that display incorrect or outdated information.
A growing number of services are available to help you improve the consistency of your NAP information.
Be aware that some of these vendors don't permanently fix inconsistencies, they just override the inaccurate information.  The problem with this approach is that when you stop paying the vendor, your problems will resurface. You are essentially renting the repairs and must continue paying the "landlord" indefinitely.
We prefer vendors that provide a permanent solution.  The repairs can take longer to implement, but the repairs are permanent.
Local Search Secrets
Make your site responsive on mobile devices
Request reviews
Localize your website
Create local content
Acquire citations and help your neighborhood businesses
Fix inconsistent NAP information
These are 6 local search activities you can start today.  Follow these recommendations and watch your local search rankings rise.  You can do it!
If you like this post or have additional suggestions, please share them.  We'd love to hear from you!